Why are Almond Fingers always one of the most preferred for kids and adults?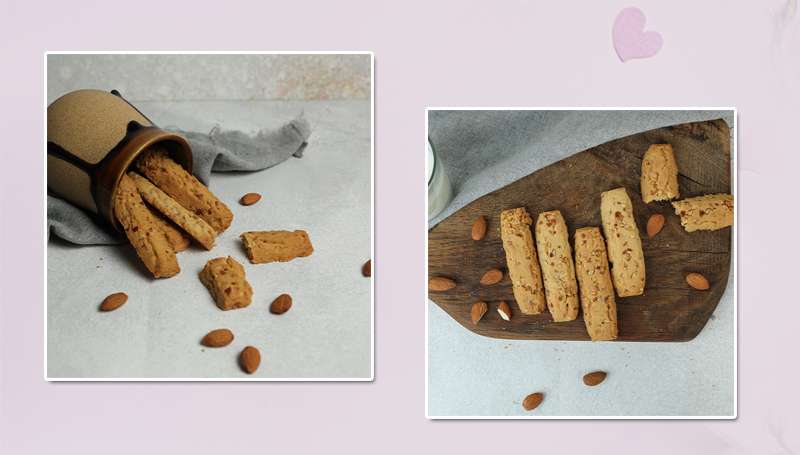 Why are Almond Fingers always one of the most preferred for kids and adults?
A well-timed snack helps get rid of the hunger pangs and gives the energy to stay awake and be productive. Now, comes the big question? Which snacks should you select?
 One of the best snack options is cookies. When buying cookies, there are so many options to choose from, from choc chip cookies to Almond fingers. These snacks are the perfect snacks in every way.
Many of us are too busy on weekdays and feel lazy on weekends to go out and buy snacks. So, with the advancement in technology, you can sit in the comfort of your home and order cookieman cookies online.
What makes Almond fingers so delicious? 
Almond fingers by Cookie Man are handmade shortbread cookies with real almond flakes. Most people are fans of cookies as they are baked with love. People enjoy crumbly, buttery almond goodness in each bite. 
The toasted almond flakes on the top of the cookies make them stand apart. This invention by Cookie Man has been their best seller year after year.
This chewy, crispy, and crunchy goodness won't let you stop by having just one. You will surely come for more. Also, if you order cookies online, make sure to include Almond fingers in your bag. 
Perfect on the go snacking!
Is it convenient for you to pack an ice cream cone or a piece of cake when going from any restaurant? It is very difficult and almost unimaginable.
The best thing about Almond fingers is that you can pack them and carry them with you. Just take a plastic bag or a tiffin box, and eat it anytime you want. 
They are super compact and effortlessly fit in any box. Also, if you cannot eat them all at once, just bring them home and put them back in the box to eat later. Easy and simple! 
Cookies with milk will remind you of childhood 
If someone asks what was a daily sweet during their childhood, there is a great chance that they will name cookies when drinking milk. We still have not figured out why Almond fingers taste so good with milk, but we knew that as kids. These cookies also taste perfectly well tea or coffee. 
Who does not want Almond fingers with ice cream?
Most of us have tried Almond fingers with tea, milk, or coffee but have you ever tried them with ice cream? No? So, when you buy snacks online or order cookies online next time, add a tub of ice cream to the cart.
These cookies taste so good if they are topped with ice cream. The ice cream can be of your choice as it goes well with all the flavors. This combination will be a superb choice if you are going for a sweet dessert after an early dinner.
The unique shape makes you happy
We all like a bit of change in our lives. That goes with cookies too! To make it a bit interesting, we have Almond fingers that are long and perfect to pick for a finger snack. They are easier to hold and save space when stored in the box.
The smell makes you groove
Want to experience what happiness feels like? Open a new and fresh box of cookies and smell it. The smell of Almond fingers is what happiness smells like.
They help you make friends for life
The portion size for the Almond fingers is perfect to have at any time or share with someone. You can also order them as gifts from online for anyone who might need a little cheering up.
After the cookie acts as a conversation starter and if they like the cookie, you can suggest that they order cookies online too. This will also help to make new friends on the way.
They are a great option for gifts.
We are always confused about what kind of gifts to buy and what not to gift. Well, the almond fingers are just the perfect option for gifting.
On top of that, the almond flakes with buttery deliciousness make them the perfect choice for gifts. You can order gifts online and have it delivered to any one across India. Sweets especially cookies are one of the perfect gifting options  that will be loved by people of all ages.
Almond fingers are always a good choice
Almond fingers never disappoint. These gourmet cookies are always a good option when you are planning to buy cookies online. They are neither too sweet nor too bland. They are the perfect blend of crispy, crunchy, and buttery happiness with each bite.
The coated real almond flakes at the top of the cookie bar are everything one could ask for when they are craving a snack. The perfect portion sizes of the cookie make them even more favorable. So, whenever you order cookies online, make sure to always add almond cookies to the list.
So, what are we waiting for? Check the link below to book your pack now.
---