8 Reasons Why Chocolate Chip Cookies of Cookie Man of India Taste the Best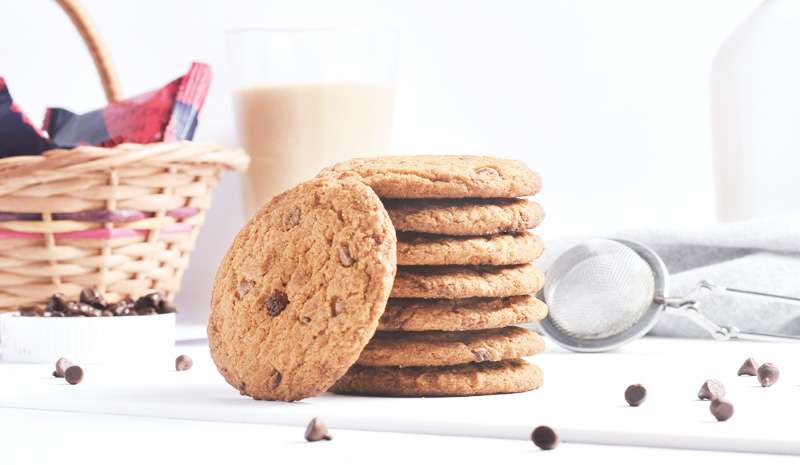 8 Reasons Why Chocolate Chip Cookies of Cookie Man of India Taste the Best
Do you have a sweet tooth and fond of cookies? If yes, you should try out chocolate chip cookies that are really amazing to taste and are a perfect mate for your tea. But, with the market flooded with bakeries claiming to sell the best cookies how would you know that you have chosen a good place to buy chocolate chip cookies?
Cookie Man of India is just the right choice to buy chocolate chip cookies. Here are the reasons good enough to tag chocolate chip cookies sold here as the best cookies.
Moist and Fudge Like Center
The perfect chocolate chip cookie has a moist and fudge-like center that is rich with butter, eggs and brown sugar. It tastes heavenly and will make you feel craving for more. Chocolate chip cookies sold at Cookie Man is the perfect choice as the taste and texture of these cookies both are tempting and irresistible.
These cookies have a caramelized exterior that is crispy and crunchy. It has a molten-lava like center when it is extremely fresh and comes out of oven. Every bite of the cookies that you get hold of from Cookie Man India tastes similarly and gives you a feeling of having goodness at every bite.
Only High Quality Chocolate Bar is Used
In the preparation of high quality chocolate chip cookies here in Cookie Man of India, only a highly quality chocolate chips are used. The service provider uses only a mixture of dark chocolate and milk. Apart from that, what makes chocolate chip cookies the best quality are semi-sweet chocolate chips and a thorough creaming of butter and sugar without any overwork of flour.
You would never feel that you are eating something made up of wheat flour with these cookies. Chocolate of these cookies just melts into your mouth.
A Perfect Feast For Your Senses
The chocolate chip cookies of Cookie Man India are the perfect feast for your senses. They are the perfect balance of texture and a superb taste. They are visually appealing and smell great which make them just awesome. They are too good and they would tingle your senses in each bite. What makes them outstanding is the fact that they are equally good to taste and touch.
Cinnamon to the These Cookies Give Them More Warmth
A pinch of cinnamon added to these chocolate cookies gives them more warmth and flavor. These are uniform in taste and have the perfect crunch. Cinnamon added to these cookies help flavor of cookies come out and make them tastier.
The Right Chewy and Crispy Balance
There is one big reason why chocolate chip cookies of Cookie Man of India taste the best. These cookies combine both the granulated white as well as brown sugar that gives these cookies a perfect crispy balance and unmatchable taste. Brown sugar is more preferred than the white one. In all the cookies preparation, 95% of brown sugar is used and only 5% of white sugar is added with a thin coat of molasses.
Enough of Chocolate Chips and Nuts
You will find enough of chocolate chips and nuts than the actual cookie dough. Cookie Man of India is committed to give you the perfect taste and hence the chocolate chips cookies sold with them are meticulously prepared to keep taste the taste intact in each bite. You will feel that just my touching them. They are superb to touch, best to smell and taste.
A superb crispy exterior of the chocolate cookies online is a visual delight.
Professional Bakers With the Right Expertise
People often wonder why cookies made at Cookie Man of India are so delicious and perfect. Whenever they need to buy cookies online, they do so from Cookie Man of India. Professional bakers working here have the right expertise and high level of professionalism to give you the best taste and crunch. Chocolate chip cookies are one of the highest selling products here. People love to recommend these cookies for their perfect bake, for the perfect ingredients and for the perfect preparation.
Available in Different Shapes, Patterns and Textures
Children love cookies and if your child is a fuzzy eater do not worry! Cookies available here have different shapes, patterns and textures. So, they are special for the children. Not only its best taste and crunch, they enjoy the shapes and patterns in which they are made.
Whether you have a sweet tooth or want to keep something for your kids that they can eat every now and then, you should buy cookies online just from the right place. After all, cookies are fast becoming an indispensable item for every household.
Cookies are addictive and when it comes to chocolate chip cookies you would find it difficult to resist the temptation. They are the perfect snacks that can satisfy your hunger pangs and can give you a feeling of satisfaction at the supper time.
It has been proven by the researches that cookies are a source of triple delight. High-fat, sugar rich cookies can raise anandamide in your brains and induce their addiction. When it comes to giving a feast to all your senses, make the right choice!
"Addiction of good things in life is harmless so let this triple source of delight be a must have at your kitchen shelf."
---